Google Hotel Ads
Hotel prices in Google, a game changer?
March 2021 - Google's Hotel Ads have been showing prices and availability in search results for years. This week, the news came that hotels and Online Travel Agencies (OTAs) can now also publish their hotel prices for free. How does this work exactly? What do you need to do to make your prices and availabilities findable? And is this a game changer in the market of online hotel bookings?
Back to Industry Insights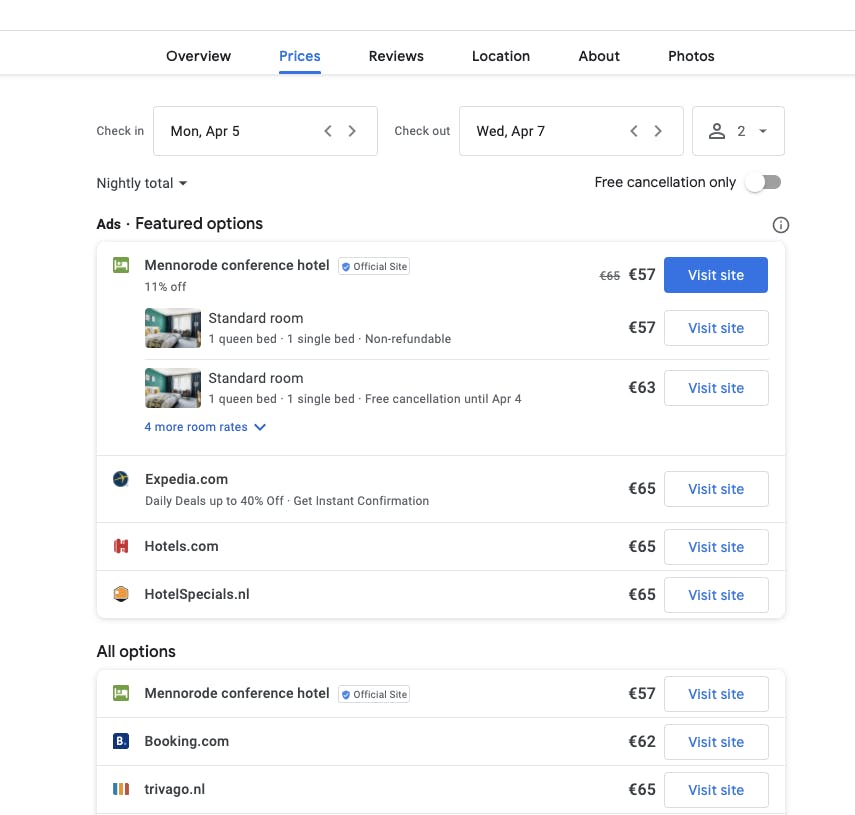 What has changed?
Hotel Ads is originally a form of paid metasearch that compares availability and prices. Both OTAs and hotels participate in this program, which works on the basis of an amount per visitor (CPC) or a commission per booking (CPA). When performing a search, the top of the page often displays targeted ads first, with organic search results below. Advertisements are a major source of income for search engines and often hardly distinguishable from organic search results. With Hotel Ads, however, only sponsored results were displayed. Until this week. Google has now opened up Hotel Ads, which means that under the sponsored results, prices and availabilities of OTAs and hotels that provide this data to Google are now shown, just like with a normal search.
How does it work?
The display of prices and availabilities in Google search results is only possible via an official integration partner. This partner ensures that the data is shared with Google. The first party to realize this link in the Netherlands is Hoteliers.com. Hotel Ads is a great opportunity to increase the number of direct bookings. Not only to save on commission costs, but also because the hotel can access the guest data this way and can therefore better build the direct guest relationship. Another advantage is that linked hotels have direct access to other marketing opportunities aimed at increasing the number of direct bookings, such as the newly launched Direct Booking Portal on www.hoteliers.com.
What's in it for Google?
Opening up Hotel Ads provides a more complete overview of prices and availability and therefore a direct added value for the consumer. More relevant results deliver more traffic, which in turn results in more advertising revenue for Google. The expectation is that Hotel Ads will gain an increasingly dominant position within the search results when a visitor is looking for a hotel.
An additional advantage for Google is that hotels are encouraged to participate directly in Hotel Ads, which requires a price match. And once the prices are linked, it is only a small step to start advertising in the program as well.
Game changer?
Is this change to Hotel Ads a game changer in the online hotel booking market? It certainly seems to be. Large advertisers such as Booking.com have a high position in the sponsored results. However, the direct listing of hotels carries the label 'official site', which makes it interesting for visitors. In addition, should hotels choose to advertise in Hotel Ads, they can always bid higher than the OTAs, as they have to pay advertising costs from the commission income. Rate parity also comes into play here again. In many European countries, OTAs are no longer allowed to demand that the hotel does not offer lower prices. And if a hotel offers a lower price in the price comparison of Hotel Ads, no matter how small the difference is, guests like to book directly.
A good booking module remains essential, but this way hotels can now really compete with the OTAs.
What will the future bring?
The integration of prices and availability is becoming increasingly important. Google is increasingly focused on keeping visitors 'in' on its platform. Work is already underway on 'Book on Google', a next step whereby a visitor completes a large part of the booking directly within Google, something that will only further increase Google's market share in the field of Travel. The future will tell how the relationship between the OTAs and Google will develop. For the hotels themselves, all this provides new opportunities and challenges.
Participate in Hotel Ads?
Would you like to participate as a hotel in Hotel Ads or receive more information? Please feel free to contact Hoteliers.com, click here.
This article was published in the following media: