Market development
Who is the changing traveller? And more importantly, how can you attract them as a hotelier? SiteMinder conducts research
October 2023 - The travel industry is constantly changing, and travellers' desires and behaviour also change over time. That is why SiteMinder, strategic partner of Hoteliers.com in the field of Channel Management, releases their annual Changing Traveller Report. The report examines global trends in order to provide insight into the preferences and behaviour of today's travellers.
Back to Industry Insights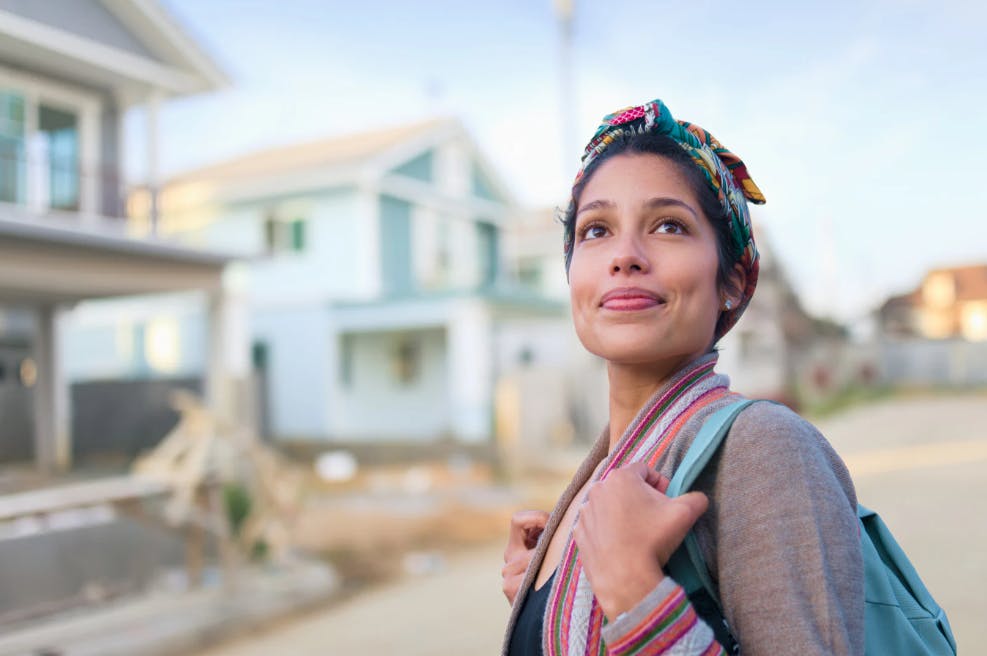 On a yearly basis, SiteMinder releases a Changing Traveller Report, in which they research travellers' behavior. By asking 25 diverse questions to more than 10,000 people in 12 markets, they were able to identify characteristics of the modern-day traveller.
In a world full of travel enthusiasts, the potential to capture the attention of new travellers is greater than ever. However, to position your hotel effectively in the market, it is essential to understand the target audience. This is where SiteMinder's Changing Traveller Report comes in.
Curious about what you should consider as a hotelier? We are happy to tell you more.
Identifying characteristics and personas
SiteMinder's research highlights characteristics of different types of modern-day travellers. These help identify four different personas:
1. The enduring explorer:
Determined to travel regardless of the daily cost of living
At a time when people are struggling with the basic cost of living, the enduring explorer remains stubborn to go on adventures. Travelling is considered less of a luxury, but rather a fundamental aspect of being human.
57% of global respondents plan to travel more in the coming year, with 42% preferring international travel.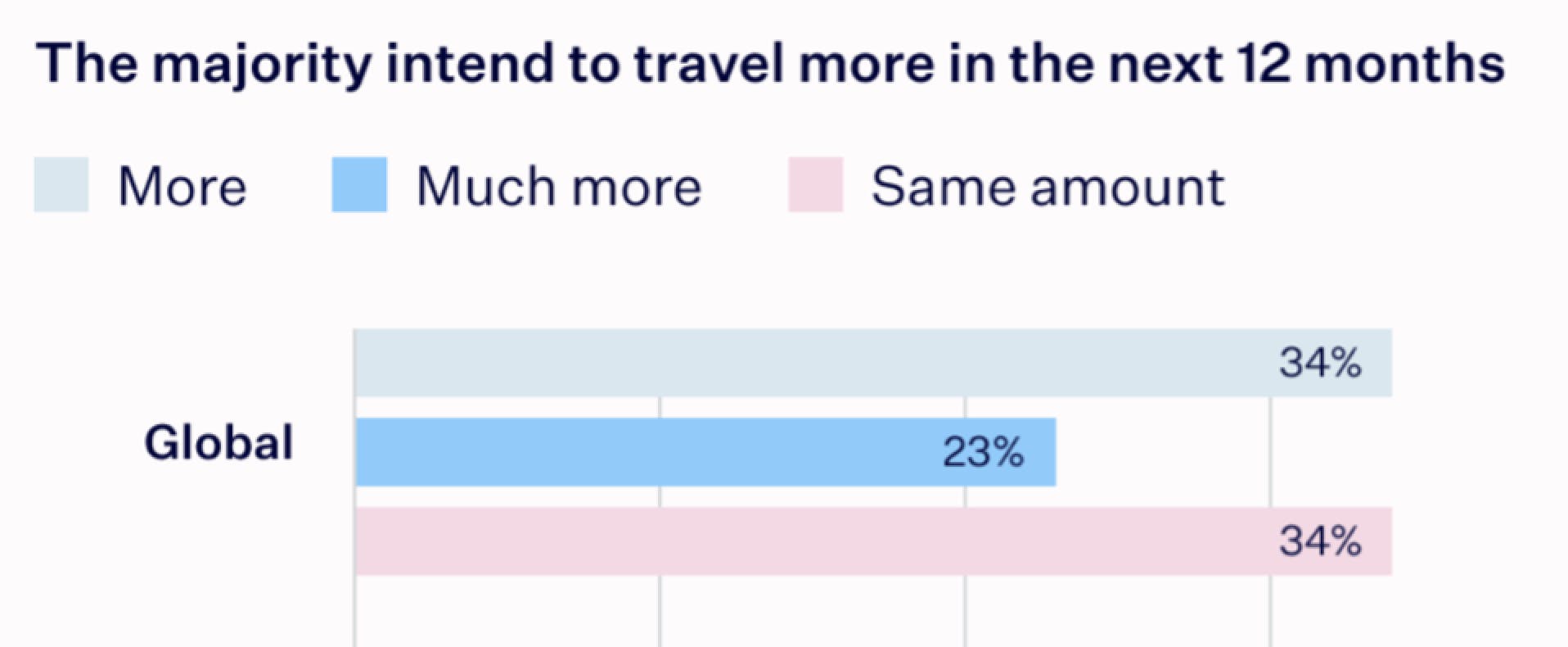 Rising costs create tensions in every aspect of life. However, today's traveller wants to experience a special stay. Determined to travel, the enduring explorer is adjusting their choices.
Takeaway: Respondents from all income groups are planning more international trips during the coming year, with wealthier households most likely to travel abroad. As a hotelier, it is important to prepare for this trend by facilitating a user-friendly website and promoting your accommodation to attract travellers.
2. The digital dependent:
Dependent on new technologies and tied to devices
As the name suggests, the digitally dependent traveller is tied to their devices and relies on a growing network of technology platforms before making a decision. Their behaviour and expectations are closely linked to online experiences, including how they shop, dine and search for an accommodation.
Digital platforms are the go-to for finding an accommodation. Today's traveller turns to global platforms to quickly gather an overview of suitable options and turns less to friends and/or brands.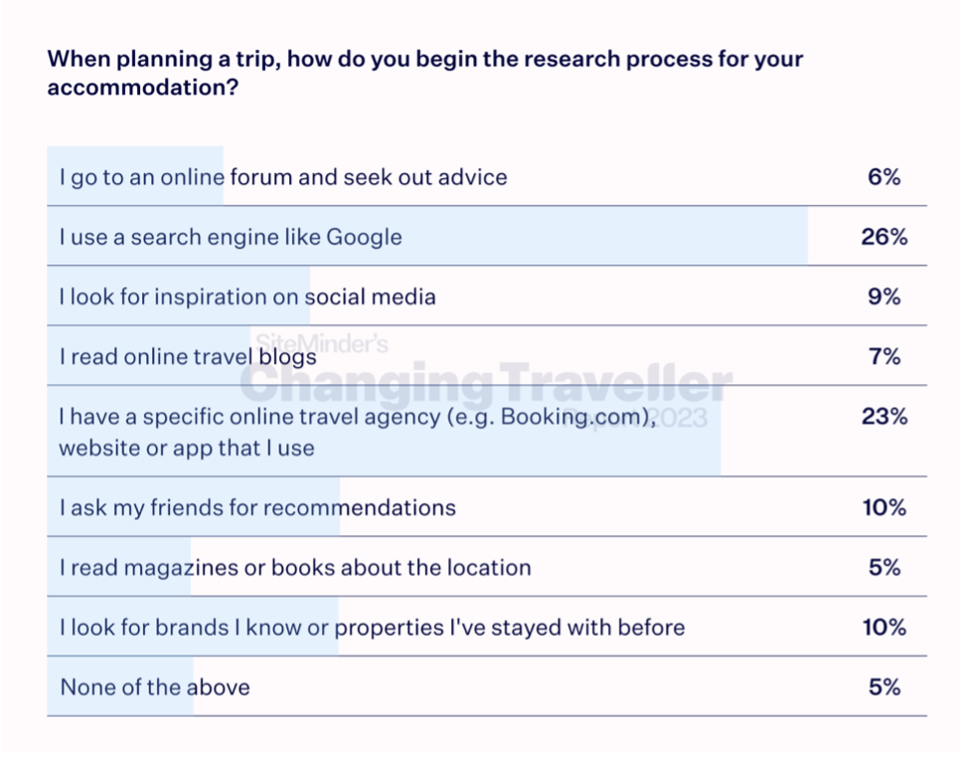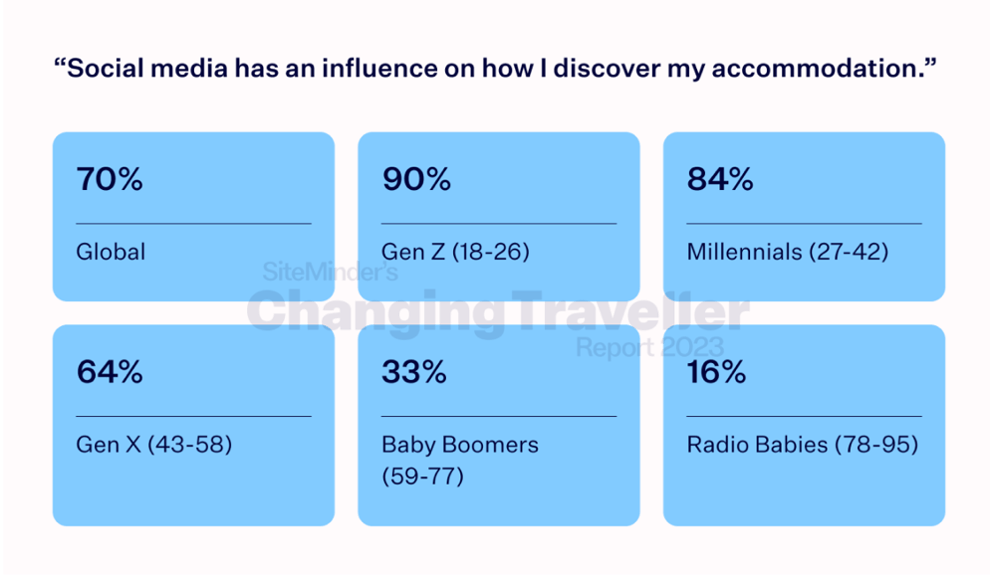 70% cited social media as an important factor in their choice of accommodation. Although it is the first step for only 1 in 10 travellers when looking for accommodation, the use of social media has continued to grow globally since last year.
Finally, the influence of artificial intelligence (AI). We can't avoid it nowadays. More than 50% of respondents in this year's survey are 'likely' or 'very likely' to use AI to generate accommodation recommendations.
Takeaway: For hoteliers, it is important to be aware that today's traveller is ultra-sensitive to online experiences. As people spend a lot of time online these days, a secure and streamlined digital experience is a priority. For instance, with a simple and secure booking and payment process, as a hotelier you take away worries. Also, don't forget to make your online presence known through various social media platforms.
3. The memory maker:
Invest in making memories, almost similar to the roaring twenties
The memory maker is fixated on the unique and is drawn to the uncharted road ahead. They are looking for quirky menus, live entertainment, and the creation of lasting memories. The snowball effect of bottled-up daydreams, is at the forefront of a repeat of the roaring twenties - an era of exuberance and excess.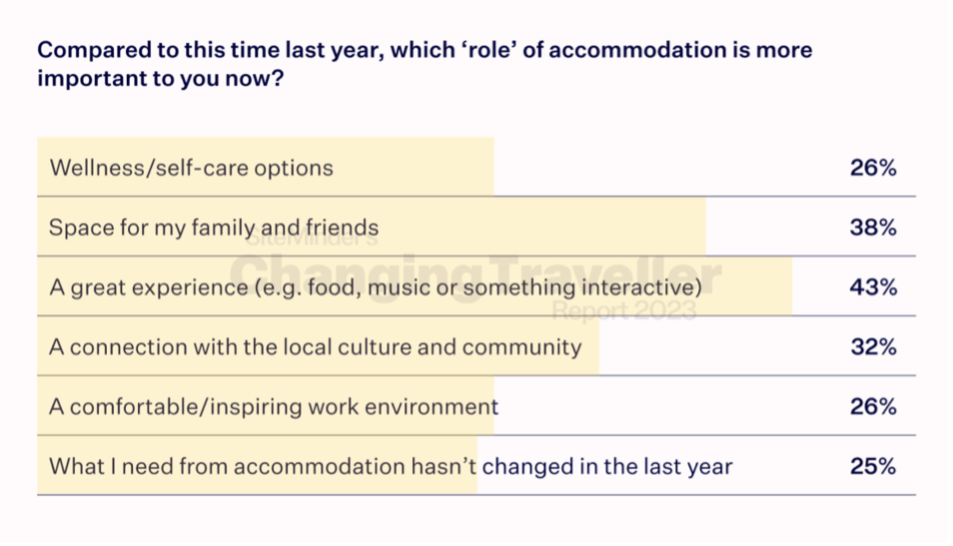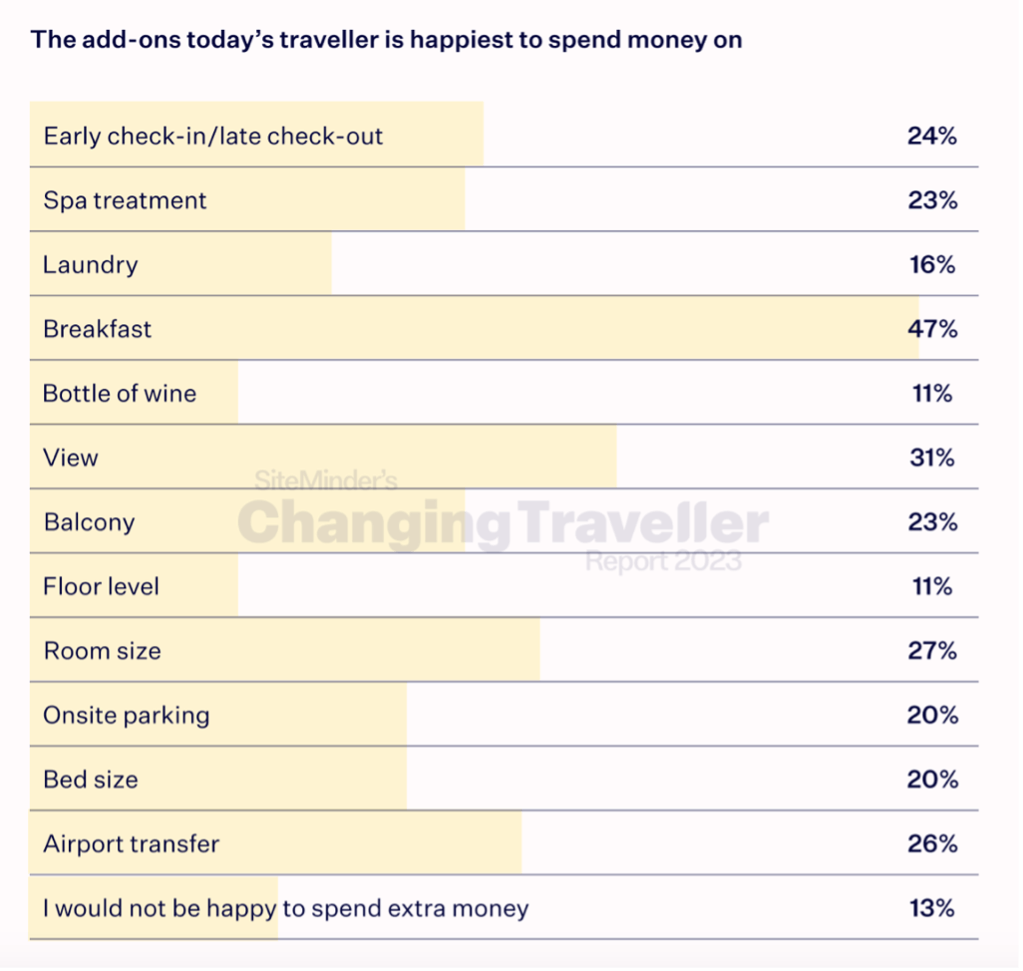 In addition, 87% of travellers worldwide are willing to spend extra money beyond the price of their room.
Takeaway: Even though the majority of travellers adjust their (accommodation) decisions to rising prices, the memory maker remains determined to enrich their stay by spending extra money outside their room. Consider revenue opportunities such as offering breakfast or upgraded room options.
4. The conscious collaborator:
A receptive ally for accommodations and the community
The conscious and collaborative traveller wants more than a place to stay. They want to feel connected to their lodging experience and are driven to create meaningful connections through their stay.
The research makes it evident that the modern-day traveller wants to hear more from their accommodation provider. Meaning, more than just an email booking confirmation.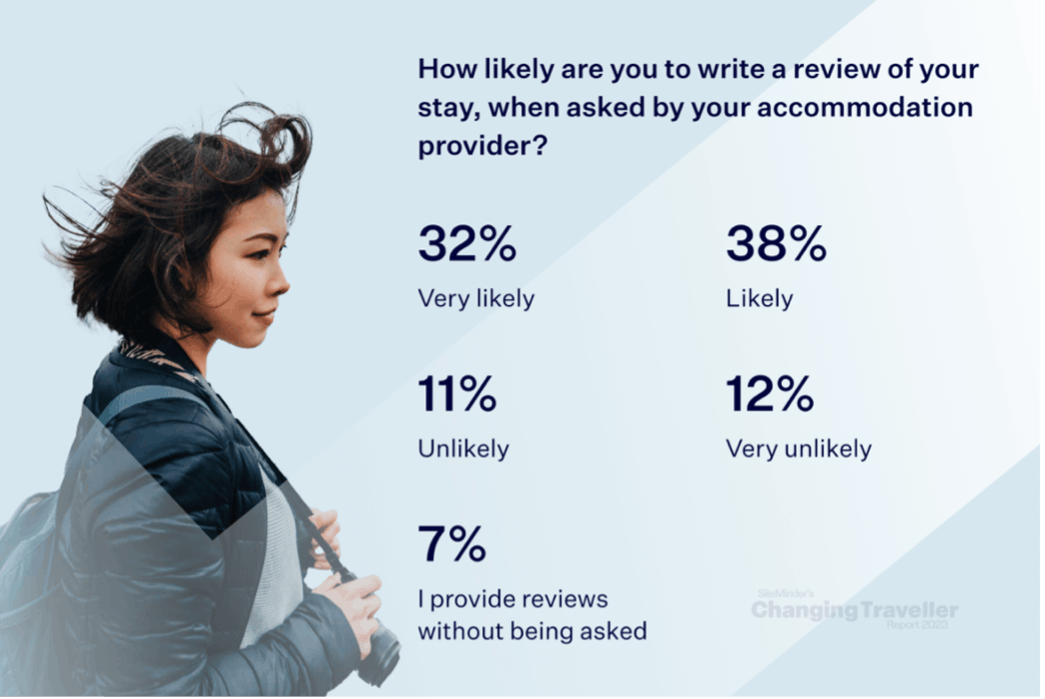 One element of communication is feedback. The conscious and collaborative traveller understands the power of reviews. They are community-oriented and find it important to share their experiences to help both the accommodation where they have stayed and their fellow travellers. Seventy per cent of those surveyed would be likely to review their stay if asked, but only a tenth of that number would do so unsolicited. Thus, they must be asked.
Moreover, conscious travellers are looking for an authentic connection to local cultures, food, people, and places. Hoteliers play an important role as a connector between the local community and their guests.
Takeaway: It is important as a hotelier to connect with travellers. Especially for bookings made directly with the accommodation, as this is one of the most prominent expressions of the connection between traveller and hotelier. Setting out multiple touchpoints before, during and after the stay can help maintain this connection and foster loyalty. Consider updates on their booking, personalised offers, tips on their stay and don't forget to ask them to leave a review afterwards.
Key global trends for 2023 at a glance
The urge to travel remains
Despite rising prices, the desire to travel remains strong. As many as 91% of global respondents plan to travel at least as much as in the previous twelve months, with the majority at 57% planning to travel more. Besides, the desire for international travel increases over domestic holidays.

Economic challenges require adjustments
Rising prices and economic pressures are forcing travellers to think more consciously about what they spend their money on. For instance, 80% of respondents said they were affected by accommodation price increases. Although economic conditions remain difficult, 87% of travellers are willing to spend more than just the price of a room.

Unique experiences as a motive
Today's traveller prefers an experience. 43% are looking for a memorable experience, something that sticks with them.

Positive digital experience is essential
More than half of the respondents (53%) stressed the importance of a seamless and secure online booking process. For example, poor online experiences have caused 1 in 2 travellers to abandon a booking.

An accommodation is more than just a bed
Half of the respondents plan to spend a significant part of their trip at their accommodation, with only 14% seeing their chosen accommodation as just a place to sleep.

More communication is welcomed
An overwhelming 88% of guests are open to more communication from their accommodation providers, ranging from booking updates to personalised offers and (local) tips for a memorable stay.
Global trends on a country level: The Dutch market
International travel accounts for 70% of arrivals in the Netherlands over the past 12 months.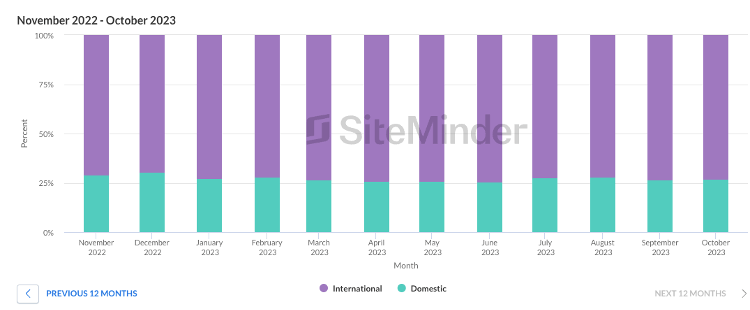 If we take the global trends and apply them on a country level, what are the needs of travellers from key source markets such as Germany, the United Kingdom, and the United States?
Attract bookings from Germany
German travellers have different booking preferences. For example, 34% plan to book directly with the accommodation, while an equal percentage plan to use an OTA.
To capitalise on this market, make sure to use a channel manager that knows how to cleverly sell your rooms in different ways. At the same time, explore ways to benefit from guests that book directly through the hotel website, such as running Google Hotel Ads campaigns.

Attract bookings from the United Kingdom
With British guests, be alert to personal interactions. 57% prefer manual check-in and 77% value personal communication during their stay.
Use technology to streamline administrative tasks so that you create more opportunities for personal interactions.

Attract bookings from the United States
Travellers from the United States value an excellent experience (40%) and are willing to spend extra on amenities such as breakfast and views.
Make sure your accommodation is attractively displayed on the website and offer extras during the booking process.
Putting these takeaways into practice
The above information provides insight into the behaviour and needs of the modern-day traveller. These can be translated into takeaways that you can implement to attract travellers to your hotel.
However, this can prove difficult in practice. Different systems and approaches could contribute, but how do you align these? Think about adding channels to the channel manager, offering local payment methods, giving the option for an online check-in and a strong marketing strategy to spread brand awareness.
Hoteliers.com is happy to help you with tailored personal advice. Completely free of charge, of course. Get in touch with our team and discover the possibilities.