Market information
Interview Jan Akkermans
February - 2023 - The Independent Hotel Show will be held again on 14-15 March 2023 in Amsterdam, a seminar and networking event for Luxury & Boutique Hotels. The Director of Business Development of Hoteliers.com, Patrick Brand has been asked by IHS to perform interviews about market developments with some key hoteliers leading up to this event.
Back to Industry Insights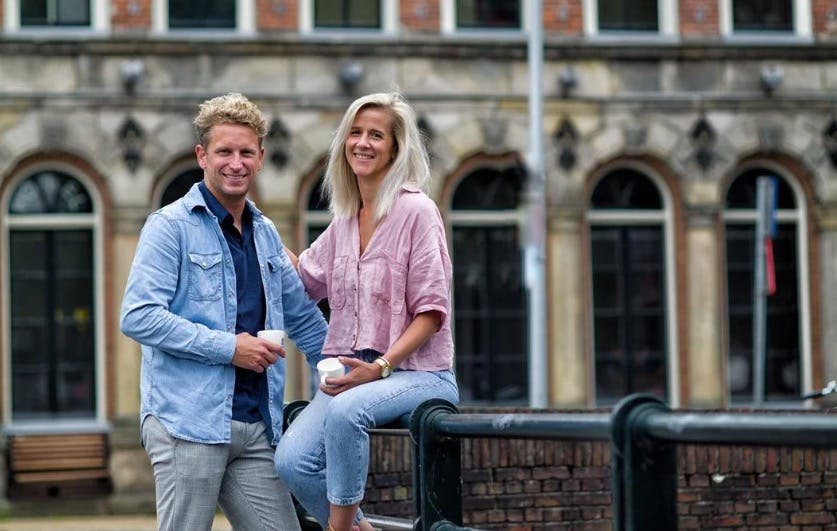 When entering Hotel Halbert everything still smells new, Jan Akkermans and Marloes Hemmel's second hotel has just opened its doors. You immediately feel the enthusiasm of the staff in the reception area, which is connected to café Tjall, together it forms the beating heart of the hotel in a bright greenhouse decorated in retro salmon and green colors. A man busy in conversation nods, that must be Jan! This gives me some time to look around in this historic hotel. On the website, I read that the name of the hotel and the café were inspired by Tjalling Halbertsma, the last occupant of the original house. He was a professor and a well-known inhabitant of Groningen, whose descendants laid the hotel's foundation. Jan joins me and explains that the old and the new are a theme at the hotel. "We want to excite guests and give them time to make memories," he says.
Jan is father of two children aged 5 and 9 and grew up in Groningen, his parents are from The Hague. He got his entrepreneurial mindset from his father and his caring side from his mother who always worked in care. "The main cities in the Netherlands, called the Randstad, are not far away from Groningen, but Groningen is far away for people living there. My father got a job in Groningen, the reason why my parents moved to Groningen. My sister and I were both born in Groningen. My father is now a city guide in Groningen and both my parents are very involved in our business."
"I met Marloes during Queen's Night in 2011, in front of Huize Maas in the center of Groningen. At first, she didn't want to know much about it, indicating that we would probably meet again." Persistence won, Jan ran into Marloes again after a while and they got into a relationship. "At the time, Marloes had just returned from Spain where she had lived for several years, on her return she went to work as a Dialysis nurse."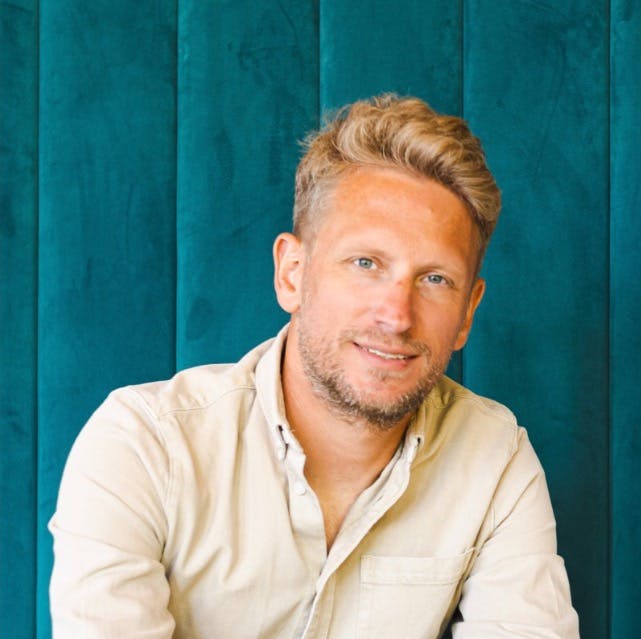 What is your background and how did you fall in love with hospitality?
"After my studies I started a commercial job at Red Bull, here I was introduced to the hospitality industry. Becoming a teacher after the ALO teacher college that I followed was not in the cards, I had trouble with the dynamics of the teacher's staff room. Starting at Red Bull was my preference and commerce suited me well. Then deal websites came up and I was able to make a career at Groupon. At some point it became too much about targets and it was no longer about the content." How did Jan get into the hotel industry? "When I was working at Regus, I wanted to become a hotel manager, I was looking for more excitement than being in a Regus business center. I believe I have a natural sense of hospitality and started a conversation with Herman van der Poel (now director at Best Western Hotel Groningen) to find out more about the hotel industry. He recommended a commercial role in the hospitality to grow into the role of a hotel manager. A week later, I was called by Melle Pegman of Hotel Professionals because the Student Hotel was looking for hotel manager, but not the classic type. For the final round of interviews, I stayed overnight in the hotel with Marloes on the Wibautstraat. In a breakfast meeting, the COO at the time asked Marloes; everyone is excited and thinks we should do it but do you think he can do it and is this feasible with your family situation? Marloes said yes wholeheartedly and after a traineeship with Thomas Kok, I became hotel manager of The Student Hotel in Groningen."
"I was supposed to play a role in the European roll-out of the Student Hotel but due to the Corona developments, I stayed in Rotterdam and in this I did not have the best time, being separated from my family and the city of Groningen. I pretty much lived in Rotterdam and we became estranged from each other, in all areas we blocked and this gave me a sign to start the conversation, start making new choices and find the focus on each other again."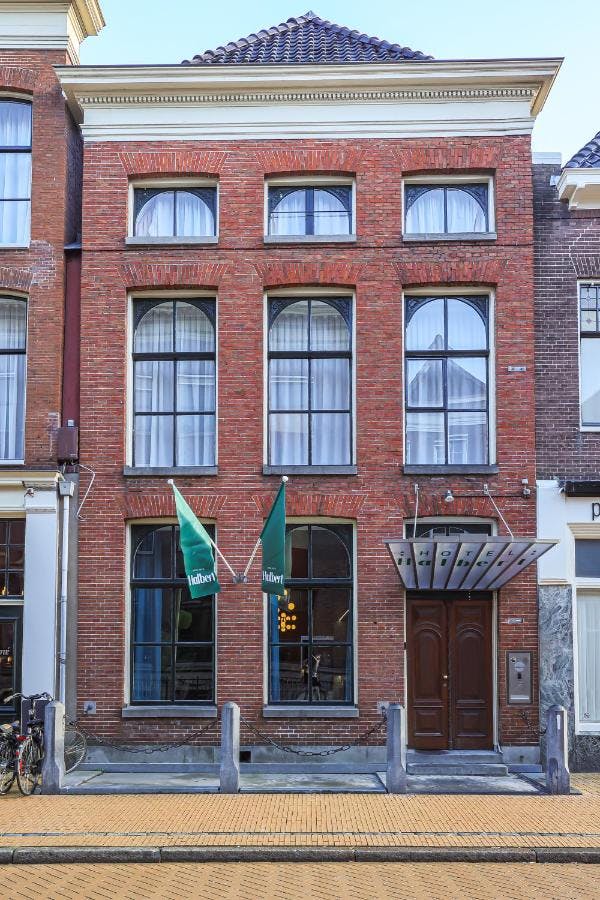 How have the last two years been for you?
"Through Plegt Vos, who built The Student Hotel Groningen, I came into contact with Wim Bulten, one of the largest property owners in the city of Groningen. I explained my background and Wim indicated he owned a hotel, well known to me; Corps de Garde. An interesting property which was for rent, isn't that something for you he asked? When I got home, I immediately shared the story with Marloes, her initial reaction was; no way, we're not going to do it. The next morning, we woke up, Marloes was enthusiastic and had one condition; if we do it, we do it together. We want to do it, I told Wim, but we need to completely rebuild it, the price is realistic but not in this state. Wim responded; if that's what you want, we will do it. And so, this adventure began!"
"It is the best choice we have ever been able to make, of course we also have real stress and salaries have to be paid, but because we work on the same business, we can divide our time well and have a common interest with the family and the business. Our children never go to after school care. In the division of roles, I am director, the face to the outside world and responsible for commerce. Marloes focuses on the human side, motivating the team, the interior and the furnishings, for example. We quickly added a second hotel, but we made a conscious decision to take this step, it is a unique opportunity, and the hotels are close to each other. With 20 rooms the first hotel was a bit too small and now with 66 rooms added, there is a better balance. Restaurant Blumé is also part of Garde Hotels. The chef of the restaurant is co-owner and has a key position with the restaurant."
"Besides being a hotelier, I am also socially active as chairman of the branch organization KHN for the city of Groningen. It brings me professional knowledge; I get a good sense of what's going on in the industry and politics and I think you have to show social commitment. In the hospitality industry, we have a step to gain. The lack of staff is partly because we need to offer employees something interesting. Offering knowledge and training and thinking along what motivates people, gives them bonding with the hospitality industry. My motto is treat others how you want to be treated yourself."
How do you stand out from the crowd?
"We hire based on attitude and personality. Knowledge can be learned but a personality is hard to change. Marloes is a good example of how to excel in a world you are not familiar with. We often say to each other; we should do more business based on gut feeling. This is often difficult because you need to make the right choices immediately. The more right choices you make, the more you know how to trust your gut feeling. I also believe in warm relationships and loyalty with suppliers and thinking along with each other."
Stimulation and feeling are central to us, thinking beyond your job description is important for many roles. You have specialists like the chef and sommelier but many roles are multifunctional. With us, the bar and reception area are one in an open space. You have the colors and light here. The smells come from the kitchen and the guest sees the wines when they arrive. These are components that we think are important in the hotel. Many hotels say; it feels like coming home, but in my opinion, as a guest you want to get away and be stimulated? To be in an environment where you feel like you are away. The hourglass is reflected in our design and is the capstone in our concept of taking time and making memories."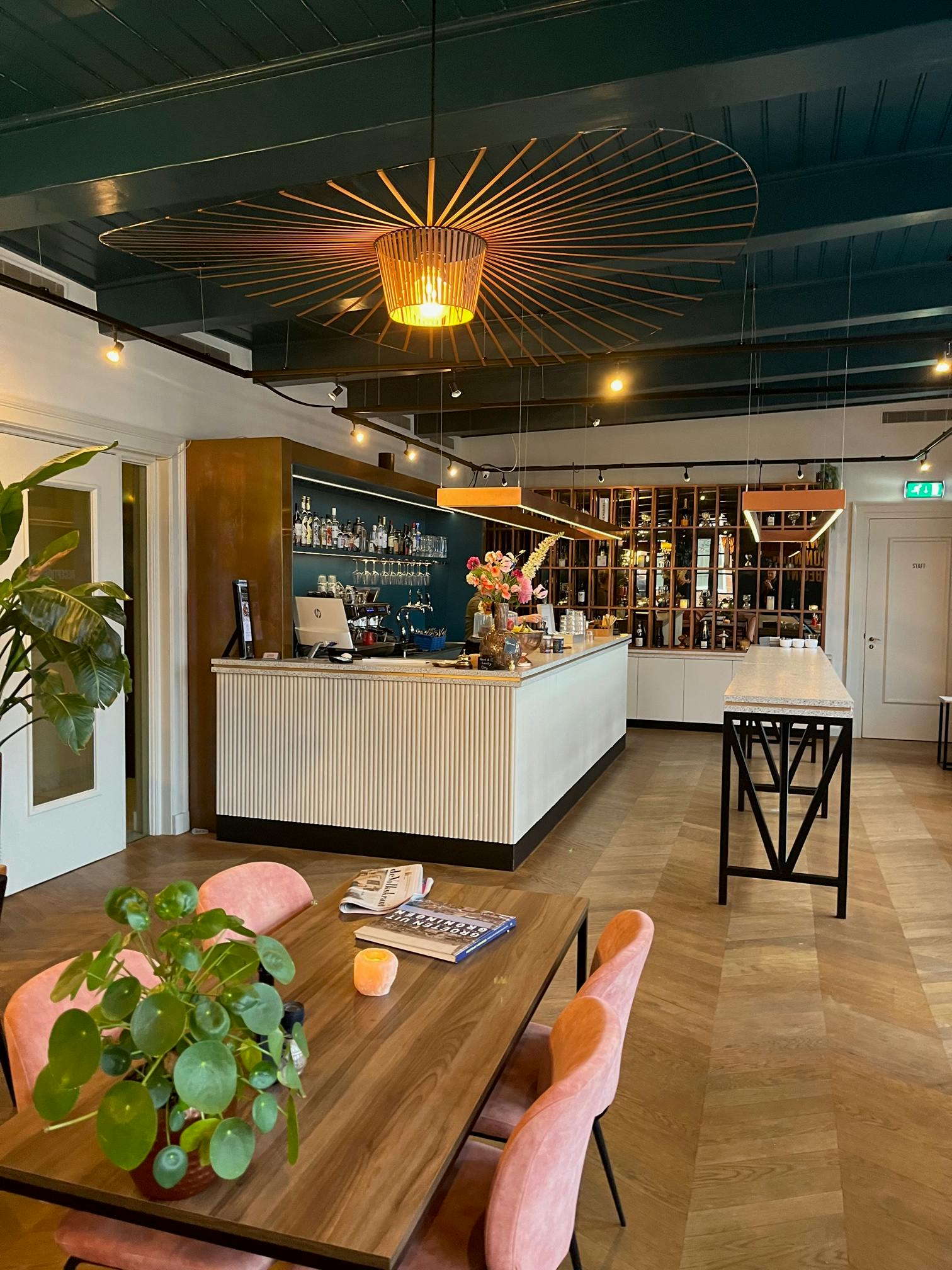 What is your most memorable or special moment with a guest, who stayed with you?
"After the opening, Wim Bulten, who has now sadly passed away, was sitting with me at the bar at Corps de Garde. His big Mercedes was on the pavement, in that respect all the clichés were true. A guest walked in and commented on the car, how much he liked it. At that moment, Wim unceremoniously handed the car key to the guest and encouraged him to experience it for himself. I really don't dare to drive it the guest said, but the ice was broken. The warmth and trust at that moment between guest, hotel and the owner of the building was indescribable and still makes this guest very committed to the hotel today. During the Friends & Family opening weekend at Hotel Halbert, this guest booked a room again and this involvement is what we are also trying to achieve with our crowdfunding, to further renovate the hotel. It is not just finances but also the involvement of believers who tell the story of the hotel on birthdays or in the sports canteen. Important in success is that the property owner is involved, making beautiful things together and exceeding expectations with the guest. I was able to find this feeling, in the spirit of Wim, once again with Bulten Realty. We really work together, and I am exceptionally grateful for that in these times."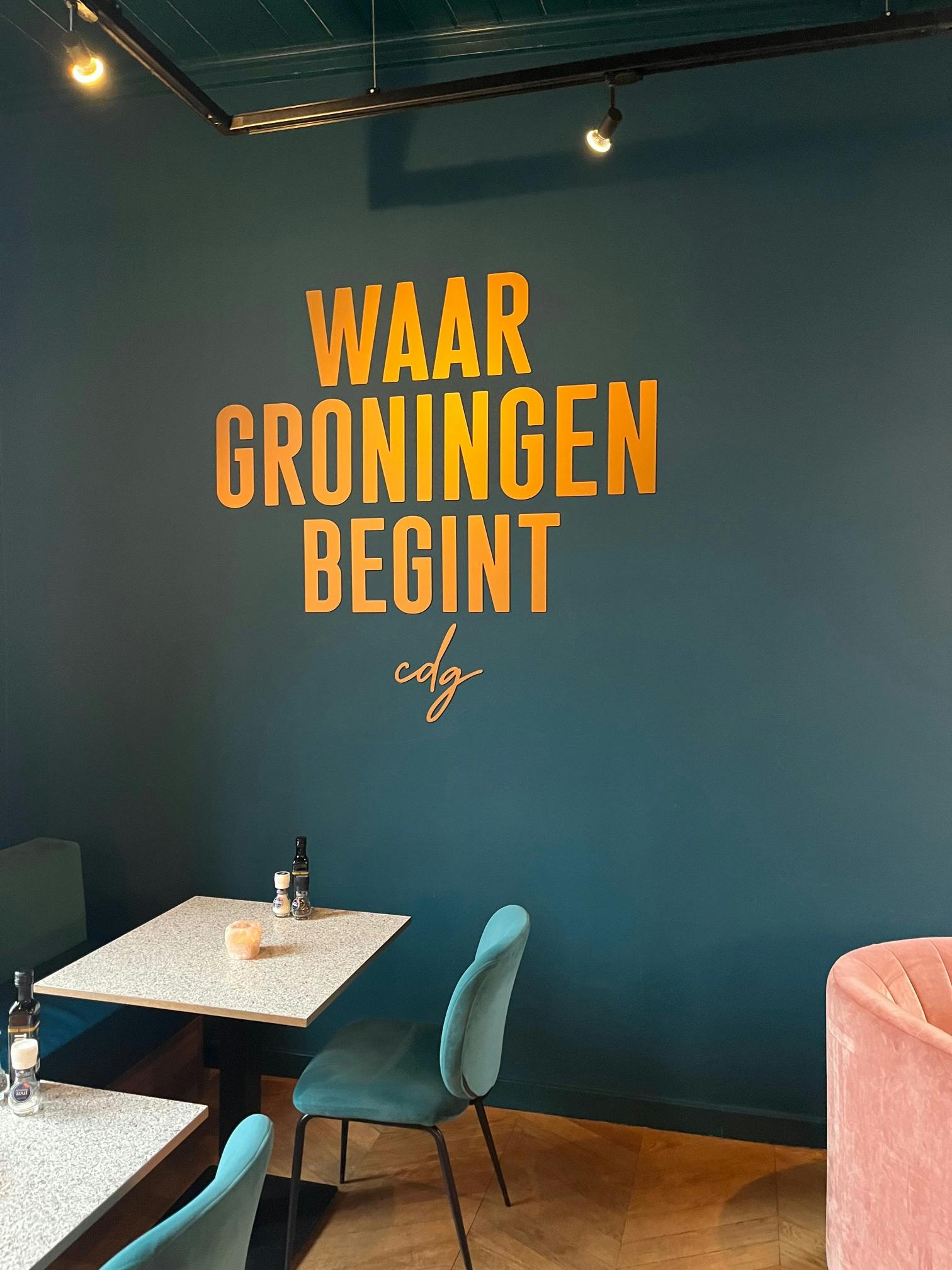 What do you do to get more direct guests?
"We actively use social media to tell our story. We have an OTA rate that is higher than the direct rate and encourage OTA guests to book directly next time. Paying commission is not wrong in my opinion, more annoying is the algorithm of visibility and review scores of commission parties. Starting a business and building direct business takes a lot of time. A lot needs to be done, from the texts on the website to being visible and generating brand awareness. With Hoteliers.com, we started working on the website and Brand creatives who helped us with the branding. We train our people to be ambassadors. In the beginning, we used a slightly lower price on Booking.com to collect more good reviews. In the business network, I am active from the Business Club of the FC Groningen soccer team and the branch organization KHN to get in touch with the business market also. On Saturdays it's no trouble to fill up the hotel, it's all about selling the Tuesday nights. Making choices is sometimes difficult; should we put someone on sales, or can I keep doing that myself. The choices of growth."
What do you expect of 2023?
"I have high expectations and also a lot of challenges because we have to finance our renovation and we have an ambitious plan. We are going to set up a professional organization this year with two self-managed hotels seeking cooperation. The team will be bigger and the dynamics will change. I want to achieve above 70 per cent occupancy with a happy and satisfied team. In the hospitality sector, quality will be the deciding factor, there is a lot on offer and the frequency of guest use in the hospitality sector may go down in the coming year."
Personally, Jan also has a wish. "In 2023 or 2024, we finally want to get married! When exactly will depend on the business and Marloes of course, it takes a lot of thought to set this up properly first and keep running it together in a good way. If you do things together you can handle a lot and together with Marloes, Sam and Liva I count my blessings."